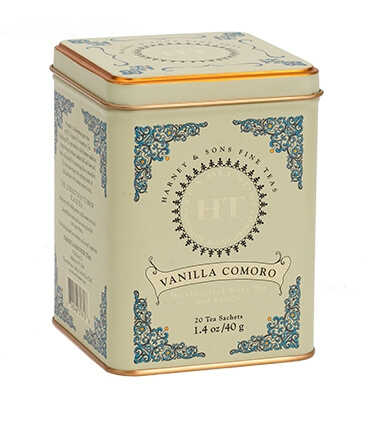 Harney & Sons Vanilla Comoro Tea
$19.95
or 4 payments of $4.99 with Afterpay
So delectable this creamy vanilla decaffeinated tea is the perfect sweet treat before bedtime. Its softly sweet aroma and rich malty, yet light bodied character swirls with vanilla notes with each sip.
Tin measures 90mm X 90mm X 120mm and contains 20 luxurious pyramid silken sachets of the finest loose leaf tea.
**For Custom Engraving Orders your order will be prioritised if you remember to answer these three questions when you order**
To ensure your order is engraved and dispatched without delay and it arrives just as you imagine it in your mind, please provide as much detail as possible for your custom and personalised gift. 
Before we begin processing your order for engraving we MUST know: 
• What font you would like us to engrave? 
o Check out our Top Ten Font list in images or search for the font online and tell us the name. 
• Where you would like the engraving? 
o Jot down a little picture on a piece of paper, click a picture on your smartphone and text to 0438 729 948 along with your name; REMEMBER engraving is only possible on flat surfaces. 
• What size would you like the engraving? 
o We are limited only by the flat surface area of an object. For initials we engrave up to 1 inch high, names up to 2 inches and text longer than 20 characters up to 3x3 inches. 
Please be mindful that we need to be totally understanding of your custom engraving idea so the more information you provide during checkout the faster we can have your gift to you the way you want it.