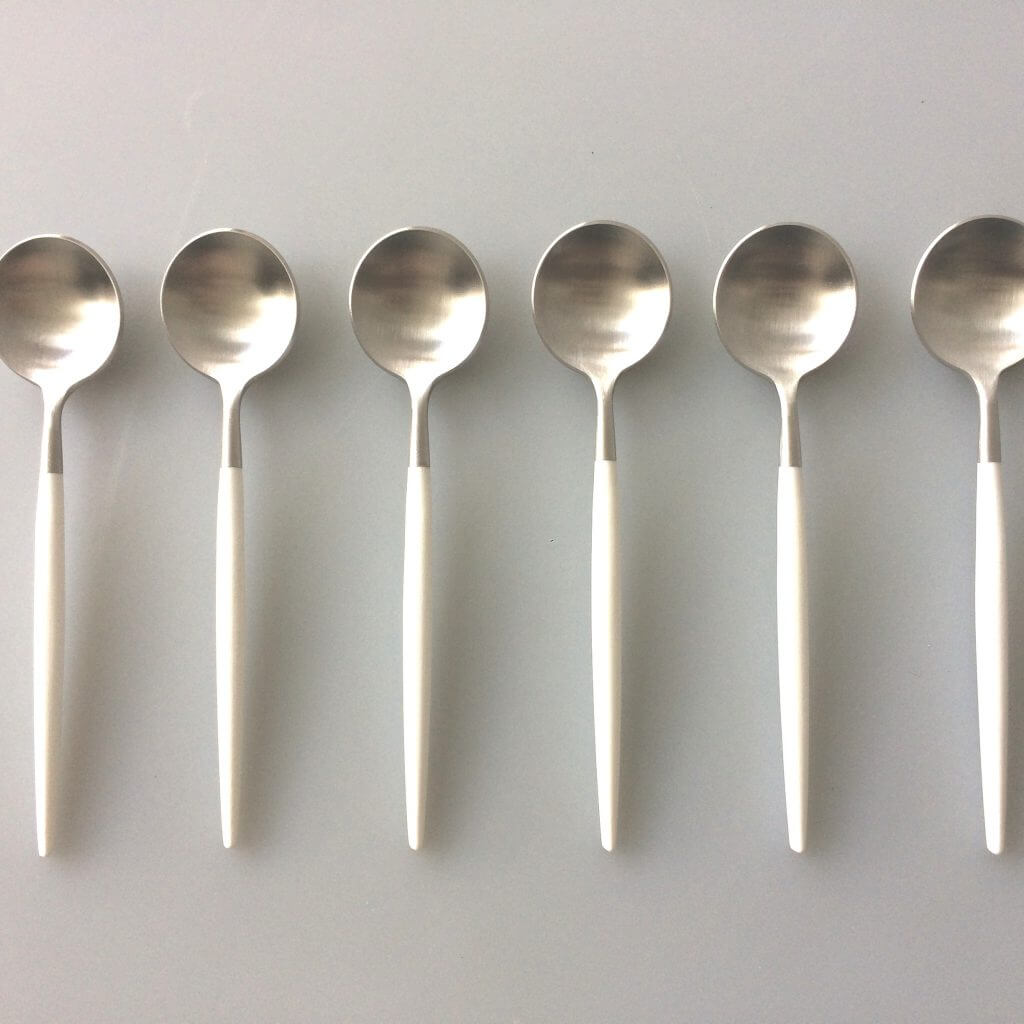 Cutipol Goa White Silver 6 Piece Teaspoon Set
$129.00
or 4 payments of $32.25 with Afterpay
A simple yet elegant gift for the lover of fine teas these lovely Portugese crafted teaspoons add colour and style to any high tea.
This set is composed of 6 Teaspoons made of 18/10 stainless steel with a brushed silver finish and white resin handle.
For custom engraving options please contact us via email to home@grandengrave.com.au.
Engraving on the cutlery is limited to the dimensions of the product and additional engraving charges do apply. No guarantee can be made to the identical appearance of each cutlery piece as they are engraved individually and finishes may vary. Please decide carefully when choosing to engrave on to the cutlery pieces directly. No replacements of individual cutlery pieces will be provided for engraving that does not produce a reasonable finished result.
Category:
Homeware
Tags:

25 years, 25th anniversary, bridal gift, bridal list, cutipol, cutlery, luxury, metal, portugal, Portuguese, silver anniversary
**For Custom Engraving Orders your order will be prioritised if you remember to answer these three questions when you order**
To ensure your order is engraved and dispatched without delay and it arrives just as you imagine it in your mind, please provide as much detail as possible for your custom and personalised gift. 
Before we begin processing your order for engraving we MUST know: 
• What font you would like us to engrave? 
o Check out our Top Ten Font list in images or search for the font online and tell us the name. 
• Where you would like the engraving? 
o Jot down a little picture on a piece of paper, click a picture on your smartphone and text to 0438 729 948 along with your name; REMEMBER engraving is only possible on flat surfaces. 
• What size would you like the engraving? 
o We are limited only by the flat surface area of an object. For initials we engrave up to 1 inch high, names up to 2 inches and text longer than 20 characters up to 3x3 inches. 
Please be mindful that we need to be totally understanding of your custom engraving idea so the more information you provide during checkout the faster we can have your gift to you the way you want it.