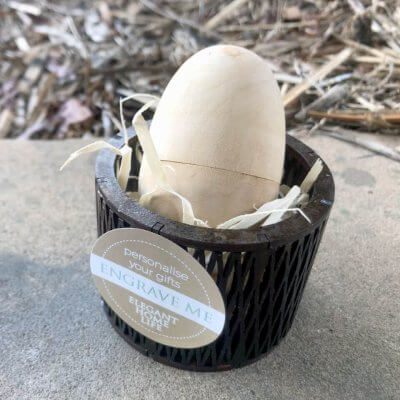 Give an Heirloom Easter Gift that will last longer than it takes to eat a chocolate egg!
These hollow wooden eggs are great for personalised Easter egg hunts and avoiding squabbles between chocolate hungry kids. Best of all, they can be brought out year after year, creating an eco-friendly Easter egg option as well as an heirloom keepsake to be treasured for many many years.
Each egg has it's own unique patterning due to the stunning light raw pine wood that it is made from.
What's included?
Option 1: 1x hollow wooden egg with name engraved across front
Option 2: 4x hollow wooden eggs with a different name engraved on each, presented in a wooden gift basket
For both options the font will be the same as the one pictured. Should you wish to have a different font used, please click on the Request Custom Order button below.