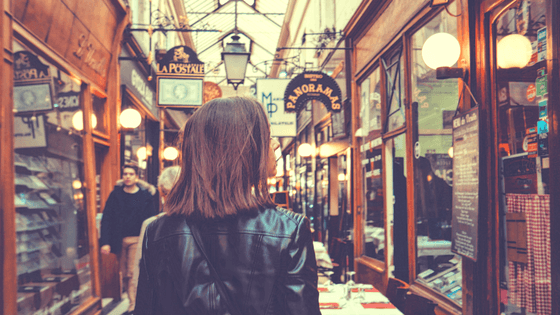 This shopping habit has had a real impact on our business…
As 2017 concluded we took a little time at Grand Engrave to reflect upon the past 12 months, as most of us do. And amongst the many things we learnt, there was one thing that caught our intention for having influenced our business in a very real way: the difference in purchasing habits between men and women. This may sound obvious, but my oh my is it something you've got to keep alert to all year round.
In these first few years as a small business, we've certainly felt the natural rhythms of our customers' shopping habits as they rise and fall through a year. Valentine's Day, Mother's Day, Father's Day, and of course Christmas, are all major dates that are held firm in everyone's calendars, requiring a certain amount of effort from those who celebrate them. But the amount of effort that is put into these events varies for everyone.

Now, getting an item custom engraved for someone is taking your gift to the next level. You're elevating it from "just something I thought you might like" to "I wanted to make you feel super special, so I went the extra mile and personalised this gift just for you". And although the actual process of getting something custom engraved is very simple at Grand Engrave, we applaud those who choose to do so.
But here comes the interesting part. You may presume that in this instance both sexes would act similarly in terms of the timing of their purchases. Surely, regardless of gender, if you are planning to get something custom engraved you are fairly organised, plan ahead. Therefore shouldn't there be not that much difference between when either gender comes in to get their engraving done. Wrong.
We still notice a trend that women make engraving purchases well ahead of a notable date or special occasion. They decide early on that they would like to create a special gift for someone. Whereas men are coming in later, closer to the deadline and in need of creating a great present, fast. Some women may come in much ahead of a specific date to shop around of course, to assess the engraving options and return a later. However the key here is that the women are actively engaging in the process of custom engraving much earlier on than most of the men.
This difference in shopping habits between males and females has influenced the sales rhythm both online and in store at Grand Engrave. It has meant that we have identified a need to order stock in two waves: one to accommodate the early girls, and one to cover the backs of the late boys.

However, there was a surprise buck to this trend at the end of this year…
Our eleventh-hour surge of customers in the few days before we closed for the Christmas break mainly consisted of females. Yup, that's right, the last through the door were almost exclusively women!
Was this because they needed a last-minute gift for someone and wanted to cover up the guilt of their rushed purchase by making it special with an engraving? Or was this because they suddenly felt the need to spruce up something that had been bought weeks ago which at the time had felt like enough?
What do you think?
We're yet to suss out why this happened, but we would certainly love to hear from you if you have any thoughts on the matter. Do you identify with a particular shopping habit? Are you a plan ahead or impulse buy kind of person? If you have any comments you'd like to share with us on this topic please get in touch via our email home@grandengrave.com.au.
One thing we are sure of is that we're really looking forward to the year ahead. We have our eyes and ears open to gaining more and more insight into our already loyal – and many brand new – customers, so that we can be the best at catering for all your gift giving needs in 2018.
Happy New Year!