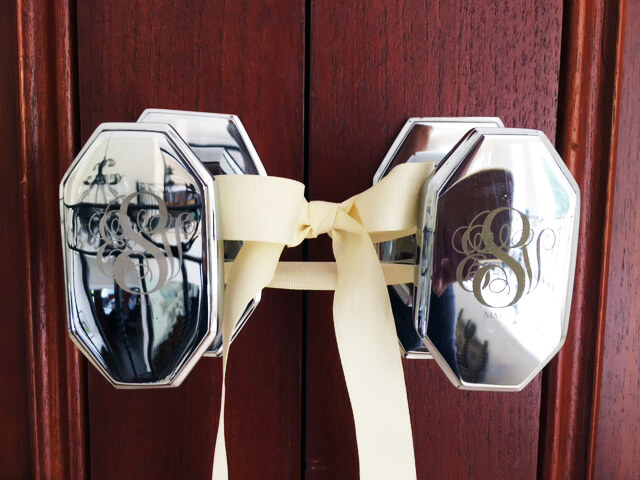 Creating an #eleganthomelife with Custom Engraved Delf Door Knobs
Custom engraved door knobs are a subtle yet stunning way in which to add a sophisticated touch to the entrance of your home.
After a couple of years working on the big renovations, we're now in the process of adding the finishing touches to our family home in the Gold Coast Hinterland, into which we moved just a few years ago. So when we came across these Art Deco style Delf Door Knobs we knew instantly that they would be the icing on the cake for the grand double doors at the main entrance of the house. And then – of course! – we got thinking as to how we could beautifully engrave them…
The striking effect of just a single engraved letter upon each door knob was too good to resist, and so we got to work deciding on the technical aspects so as to best achieve the desired look.
How We Engrave Polished Brass with a Chrome Finish
Just little snippet about how we engrave onto these Delf Door Knobs. (We're craftsmen, we can't help but get excited about the finer details!) We fully laser engrave these brass door knobs, instead of opting for laser marking just upon the surface. This means that the finished effect is a true, deeper etching onto the door knob. And the result is impressive, as you can see from the photo!
Once the engraving was complete, and the door knobs were installed, we just couldn't resist tying a bow around these beauties! We had guests coming to stay this weekend. That was our excuse anyway…
Engraved Door Knobs, just for you!
If you've looked at the photos and thought 'oh my, how gorgeous' then we'd love to help you have your very own Delf Door Knobs engraved just for you. We chose to engrave the name of our home – "S" for Sarabah Estate Vineyard – but we also think that engraving the initials of the lady of the house or the family name would add a chic touch to any home.
Find out more about creating the ultimate #eleganthomelife with these beautiful door knobs by visiting the product page.