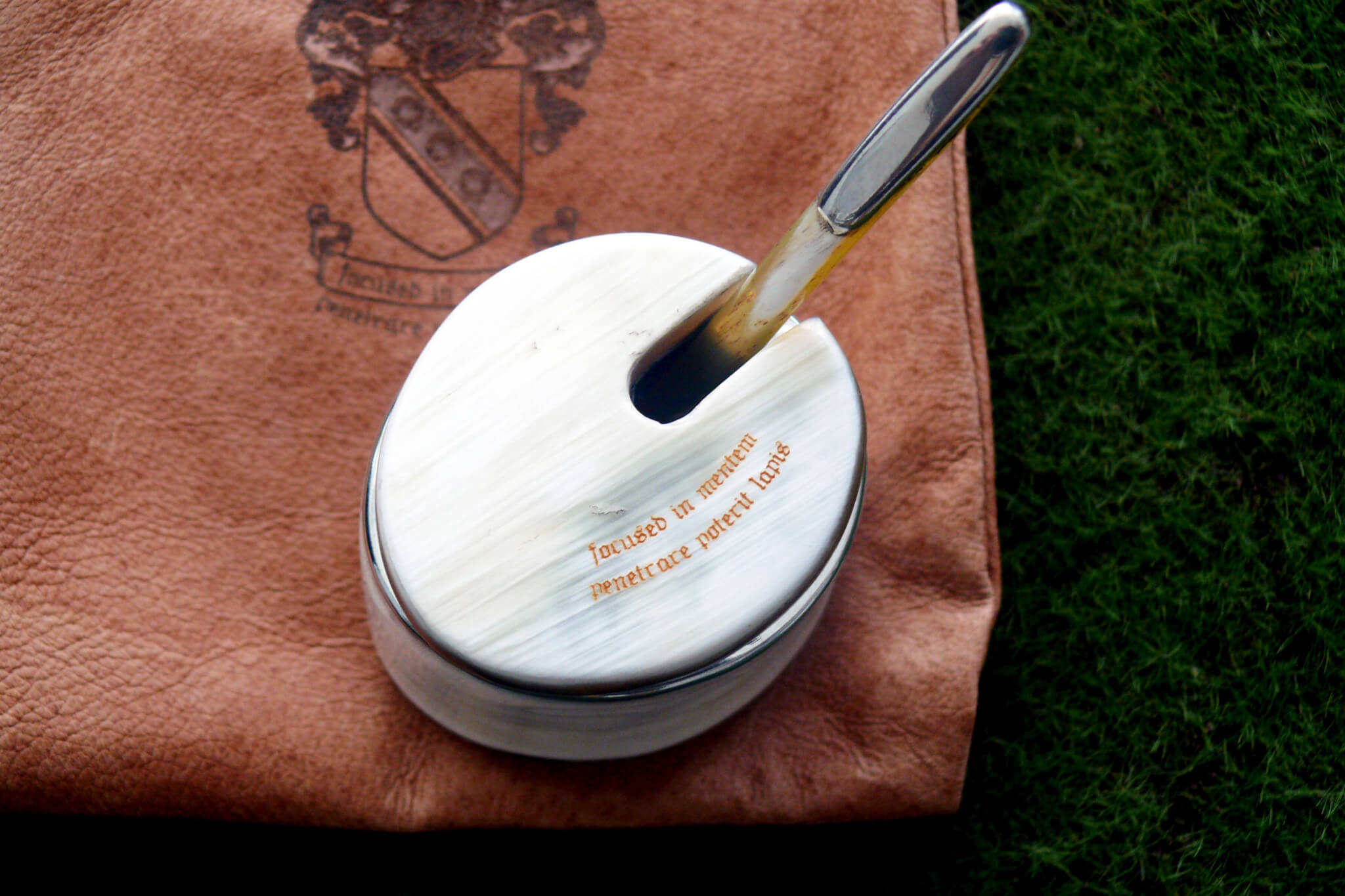 Personalised Gift Idea: Engraved Leather Pouch & Horn Pot
We've engraved upon Crofters Craft horn and leather accessories with stunning results!
The Grand Engrave family went on an outing this Mother's Day to the Arts in the Olives Festival at Worendo Olive Grove in the Lost World Valley.
In amongst all the fabulous little stands and bustling crowds we came upon Ross from Crofters Craft. Ross was hosting a horn polishing workshop, during which you chose a piece of horn, had it heated and pressed in a mold, then polished away to your hearts content!
Ross was a fantastic teacher, and we learnt a great deal about his craft of creating horn and fine pewter homeware and accessories. Salad spoons were the item of choice for us, and we were hooked from the word go.
Naturally we became mesmerised by all the beautiful pieces that Ross had on display, so coming home with us that evening were more than just the spoons that we had made… A beautiful horn condiment pot and spoon set, wrapped up in its very own leather pouch, came back with us too!
Once we got home we jumped onto the laser engraving machine and added our engraved family crest to the leather pouch. We then engraved our family motto "the focused mind can pierce through stone" – a Japanese warrior maxim – onto the top of the lid of the horn pot.
The delicacy of our engraving really brought to life the already stunning accessories, and is a perfect example of how Grand Engrave can take an item of your choice and do the same. A custom engraving such as this is the perfect personalised gift for weddings, birthdays and special occasions.
If you're interested in more gifts ideas then take a look here or contact us to have your own item engraved. We're also always happy to meet with you at our Brisbane Studio to chat about your custom engraving ideas in person.